Discussion Starter
·
#1
·
I'll be brief since I'm on lunch =) Tiny went in at 7:00am today for her dental surgery, we ran a pre-surgery EKG to make sure her heart was working well enough to last a 2 hour surgery. Gave her a dose of atropine with her pre-med to keep the rate up through induction. Induced her at 8:30am and started the dental. We extracted all her teeth except a lower canine, and 2 back molars on the left side. She had two oral-nasal fistulas which are when the root of the canine has decayed all the way through to the nasal passage = nasty infection. Had several scares during surgery with her heart rate dropping, but she maintained well through all 2.5 hours of some pretty intense oral surgery.
Her wakeup was heartbreaking as she was in a lot of pain, we gave her acepromazine, buprenex, metacam, and morphine and now she's resting comfortably. I'll update you tonight when I have her home, hopefully her pain will subside as she rests, but I can't imagine what she's going through.
Thanks for your support!
-Nate
UPDATE: Tiny is at home resting after a long day. She is on pain meds but for the most part seemed comfortable. She already wolfed down two small meals so she looks like she'll have a speedy recovery. Here's a picture to show how out of it she looked when she got home. Her tongue is hanging out extra far because the vets placed nerve blocks around her mouth during surgery so she doesn't have very much control over her mouth and is feeling numb.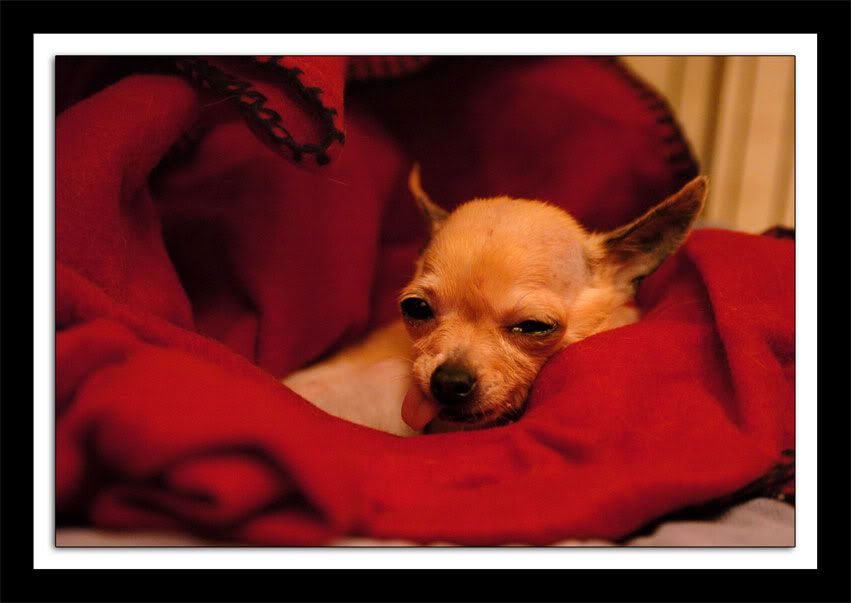 Thanks for all your support everyone!