Discussion Starter
·
#1
·
first off i'll start with a happy start to this post :lol:
here we go says Aries the Kitty while drivin!
let me say....she was soooooo calm in the car! it was amazin...she even fell asleep while the sun was hittin her! calmest kitty ever in a car....lol~ my bf's other kitty Hylus was very girly and all last time we took him to the vet
ok so here we go....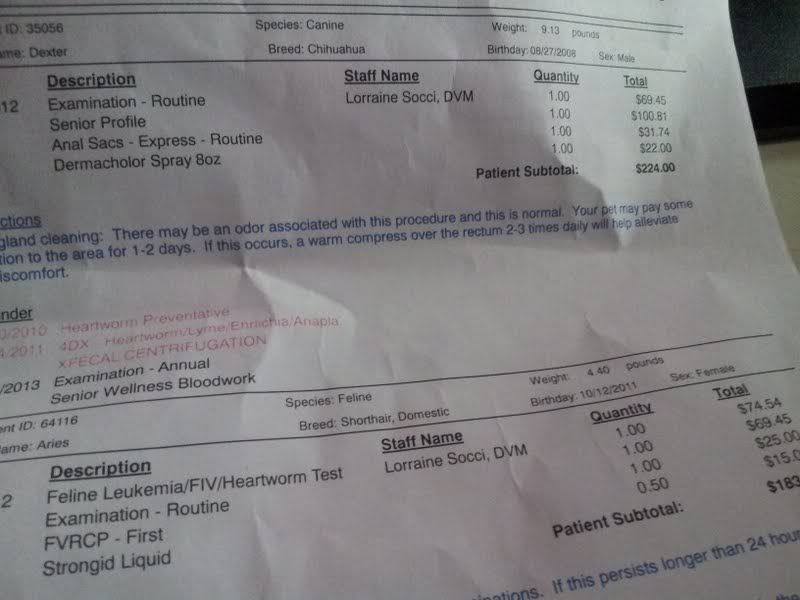 1st off Dexter weighed a whopping 9.13 lbs :shock:
anal sacs were expressed and i saw a little gunk coming out but it wasn't impacted or anything at all...
vet was worried about his hairloss on his fur throughout his body plus flakes. i told her he gets dry and flaky during the winter time a lot..she suggested a Senior Profile Bloodwork....so will be getting the results for that tomorrow afternoon...i hope it's all good news as she said it might be Cushings Disease...
the other sad news i got was that she said his left hind leg seem to have a little bit of Luxating Patella. she said that he can get surgery done to fix it but it will pop in and out by itself...sigh i really didn't want him getting this but somehow...he did...this upsets me so bad...i hurled when i got back home to the boyfriend's...
She also gave me some spray for his hair...hoping it'll help. it's called Virbac Humilac...a daily spray to help
2nd: Aries the Kitty now the background of Aries was that was a kitten found in front of the boyfriend's apartment building...and was picked up by him. we also found out that her and the littermates were all abandoned outside and the mom was killed by poisoning on cat food outside...one of the people from the building was doing it to get rid of all the street cats. we were fostering her for a bit trying to find a good home but no one wanted her as she wasnt vet checked at that time. turns out....she's Leukemia free!
which is awesome! she's perfectly healthy and got her first vaccine today.
calling around 12 pm to get the results for Dexter...please wish us luck
p.s: sorry if this was a long update