Discussion Starter
•
#1
•
Roxy is a gorgeous blue sable tipped red, im thinking shes gonna turn mostly red over the next couple of years just like her momma, but i think perhaps she will keep her blue mask, tail and ears!
Shes gonna be about 4 1/2-5 lbs full grown if she continues to chart right.
Shes not quite as stocky as her siblings but still has great form.
Her ears are the droopiest, and her eyes were the last to open but ill tell you now, shes the boss!!!
Shes a true spitfire always bouncing round and showing everyone whos in charge.
She Loves people and enjoys giving thousands of puppy kisses!
She is going to a very nice home, Her new mommy actually bought a long haired chihuahua for her daughter before she moved out, after living with him for a year she misses him now hes gone, so her daughter is returning the favor and buying Roxy for her. Shes going to a home with an elderly husky and an older (but very sweet) rottie. I know with her personality she has nothing to fear from the big dogs, and she will have another chihuahua and a westie to play with often!!!
Wk 1: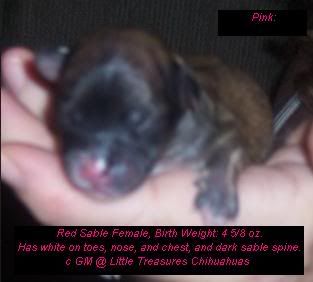 Wk2:
Wk3:
Wk4:
Wk5:
Wk 6: