Discussion Starter
·
#1
·
Sorry have to vent, but I honestly found a lot of people out there, including the Chihuahua owners can be so ignorant and narrow minded. I have 6 Chihuahuas and they are all in different sizes. I have one boy which is 9lbs in weight while the rest are 3 - 4 lbs. (Harmonee is towards to the skinny size and she weights only 2.3lbs, we and our vet have been trying to work on her weight for months)
Lately I got comment about Hamornee...like "what do you feed your dog to have such long legs", ""Wow, how come she has such long legs", "OMG, your chihuahua looks very different", "How come she is so skinny, do you feed your dog?"
I have to say, my Chihuahuas might not be the Champion of whatever these International Dog show, but they are all well loved and cared dogs. We love Harmonee just as much as the other Chis even she might be taller or thinner, wish people just accept the fact, each dog is different. And have to say, Harmonee's parents are tall and lean, so the genetic also counts. Wish people think before you speak, if there's nothing nice to say, don't say it. :foxes15:
I am sorry I have to say Harmonee is pretty inside and out to me and a lot of my friends who have met her, including her vet. My vet has in fact treated Harmonee for fractured front legs for the last 6 weeks and he fell in love with her.
You can see 3 of my girls celebrated their birthday this past weekend, and Harmonee is taller than the other 2 girls.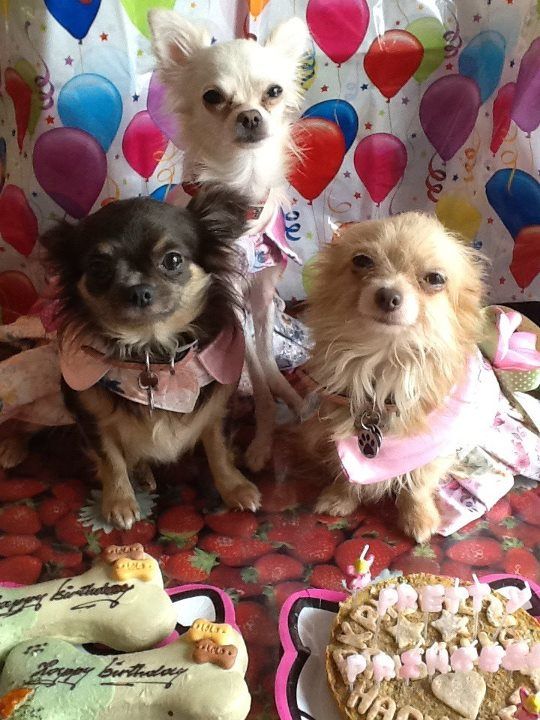 PS I have ignored the comment, but it doesn't mean it doesn't get me and it hurts.