Discussion Starter
•
#1
•
Finally got around to ordering some Zac & Zoey hoodies for the kids. I looked around a bit because I wanted different colors for a cheaper price & the one posted on the other thread that had more colors were out of a lot of sizes. ANYWAY, I found this site that has super prices, lots (and LOTS) of choices on hoddies, sweaters, etc for a VERY good price! I hope it's ok to post the link... They also are super quick in shipping. It cost about $55 including shipping for six hoodies. I ordered on Monday, they shipped Tuesday & we got them today (Friday). We've not gotten Zac & Zoey items before but I loved how they were neatly packaged with hangers & all sealed individually. Very nice.
I also could have saved a bit more money if I'd paid attention to the coupon code on the side of the website. :roll: So if anyone happens to order don't forget the coupon code! Anyway, just thought I'd share the info & some piccies!
Welcome to petsgohere.com - Pet Clothes, Frontline Plus, Flea Medications - Pet Supplies Store
**don't mind the tags--I was too excited to take them off before trying them on. LOL
I weally don't wike wearing sings but I guess dis will keeps me warm...Iz wearin' da size Small.
Wheely mum? Dis is widiculous!!
Ottay, doos purple look awight wiff my eyes?
Iz wearin a size Small too...
Dis not so bad I don't sink!
Ottay, I wied! What is see doowin to me!?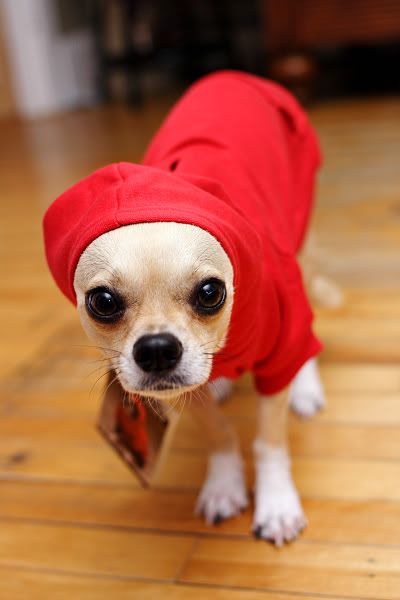 Whats happenin to my my eyeballz!?
I isnint movin mum...you yucky I eben yookin at you! (I iz wearin a size XS btw)
Pwease help?
Gagme mum...you iz so annoyin!