Discussion Starter
·
#1
·
One month ago today we got our little girl. I thought I would commemorate this event with some pictures of her antics around the house.
Hanging out in her sweater sent by her grandma and grandpa! Her ear is particularly floppy here, but it seems to go in phases, it is mostly standing up this week.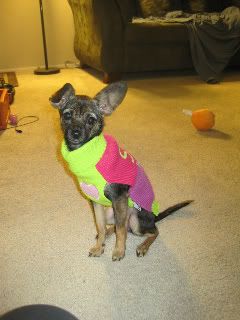 I call this one "Copley removes ears from toy as Kerri plays with the back of it like she is totally nuts"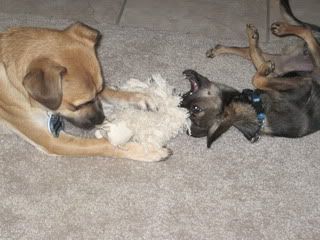 This is a moment that I didn't really want, I had always been giving chews/food in different rooms till we all got used to each other. Well they decided they were used to each other and both picked up their kongs and walked over here. Copley even let the puppy use his body as a wedge so she could get more leverage.
It has been a great month, she is learning so fast and Copley could not be happier to have a friend around! This forum has been great too, I am sure I will contribute a lot in the future, but although I am experienced with dogs, I am totally new to chihuahuas, so I have mostly just been reading!
Thanks guys!