Discussion Starter
•
#1
•
Thursday night, we're watching tv about 9 and I'm fighting to keep my eyes open until time to go to bed. Someone knocks on the door, and it's a young woman, holding this tiny little white thing in her arms. She's in tears, said she found him that morning huddled quivering in a ditch, and she's been driving around all day trying to find out who he belongs to.
I turn the porch light on, and it's a LC Chi!
The woman is really stressed out - she's called all the vets and shelters and she's not allowed to keep him at her apartment, so she's going to have to turn him loose.
Boy, she sure picked the right door to knock on at that point...
Here he is...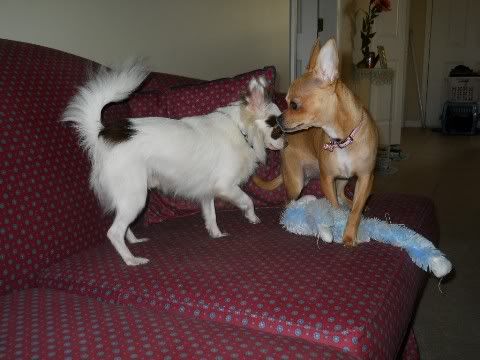 We've guess-timated him at about a year, and probably close to 5 lbs. His coat is gorgeous, and he's been recently neutered because there are still remnants of stitches, even though he's completely healed. He's a cuddle baby, and just as sweet as can be.
I'm going to branch out a bit and contact vets in the surrounding cities this morning, but other than that, I really don't know what to do.
He's an escape artist, so it's possible he got away from someone. But, since no one seems to be looking for him, who knows?
Regardless, he's got a home here if he needs one...I am such a sucker...I did want a long coat, but had really planned on getting a pup!
My husband is still shaking his head, when he's not loving on the dogs!