Discussion Starter
•
#1
•
Well, normally I'd post this in the showing section, but am curious of any general opinions people have, so...here the pics are, LOL. Please don't look at me, I look ridiculous in any I appear in, most were w/ the self timer, ha ha. I know he is too far back and not enough over his front legs, anyone have any idea how to fix this? This is not how he normally stands!!
His coat is coming in, starting at his nape of neck, which makes his topline look a lil funny too.
Here's a random free-stack I snapped, sorry its so dark:
Hand stacking,...I love his little muzzle.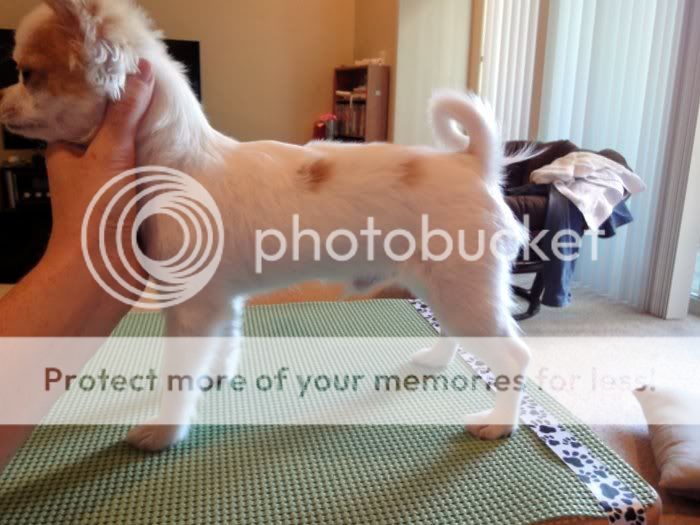 His stop...
Attempting to stack him on lead (his fav time to sit down)
Stuck w/ some yucky buffalo treat in my mouth to keep his attention...
Wondering if this lead will be OK for in the ring or not? It has a tiny bit of iridescent sparkle, but I haven't found a flat white one yet, I thought that was what I was ordering here but no I guess not...
Tried stacking him on soup cans for the first time...here's what he thought...
That's all for now...we've still got lots of work to do! He starts ring craft for 7 weeks in the fall, and we just met a lady who runs an obedience school here who used to show and breed chis so she is going to help me out when she can...yay!