Discussion Starter
•
#1
•
So just to show everyone what we're dealing with, I went out (and brought Betty) to get pictures!
So over the last few days (started Sunday night) we've gotten over 120cms of snow. I went to work yesterday AM, took me 20mins to dig out my car and 45mins to get to work (normally a 15min drive). I didn't even get to work today. They were considering calling a State Of Emergency! They didn't end up doing so, but my boss said we'd just stay closed today (only she and I can open the store, and she's in Kitchener). I guess they're calling for another 20+cm overnight, and our Mayor has asked all employers to please tell all staff to stay home so they can clear the roads. The local transit has also been shut down (8pm last night, ran this AM until 3pm and not running at all tomorrow).
We shall see if I have to go in, it will depend on how bad the roads are. I live on a side road and they don't plow those often.
Anyways, on to the pics!
These are all from this morning, so there is even more snow now.
The back of my car - snow is now over my windshield completely.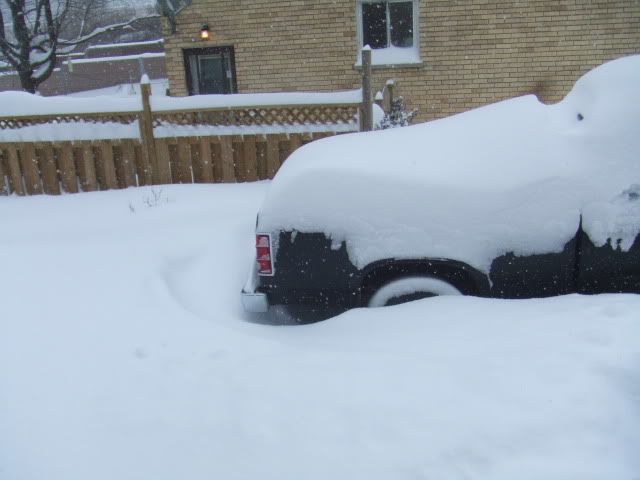 My cousins pickup, parked beside my car, also more covered now.
The backyard. That fence at the back comes up just past my chest. The snow is almost overtop of it now.
Betty says "Howy crap."
"Can we pweese just go homez now?"
Front of the truck.
Neighbours car from our driveway. The drifts this AM were so high they came to my boyfriends waist, he's about 6'.