Discussion Starter
•
#1
•
Wow talk about fast shipping! I got the Zack & Zoey hoodies I ordered from "Four Your Paws Only" in 2 days! They arrived on Friday, yay! They're so great, can't believe the prices really. Thank you so much Kristi for posting the link about them, what a great deal. I find they all fit really well, so yay. Here's some pics of my little weebles with them on. Poor Pip really hates clothes so he likely won't wear one except when going outside in the colder weather. He looked all sad wearing it, although he did fall asleep in it and seemed pretty cozy, so maybe not so bad.
All the hoodies I got are size X-Small, with exception of the pink snow baby which is size XX Small. The hoodies with the fleece run longer than the basic hoodie, but they still fit fine, although baggy on Roo. The fleece makes them more bulky and thus also harder to get on. I wouldn't even try with Pip, but put the gray one on Roo. It's really well made and warm, I like the fleece lined ones a lot. The basic hoodies are awesome too, just an great all around hoodie for the colder weather, very easy to get on too.
Excuse the tags in the pics, I didn't take them off because I wanted to be sure of the fit first. I pondered if the XXsmall snow baby might be too small for Roo, but I think the Xsmall, might be too big going
by the measurements.
Here's Roo in the basic hoodie, size XS. Roo was pretty sleepy in all these pics, she's such a sweetie for tolerating her mom's crazy pic taking. :lol: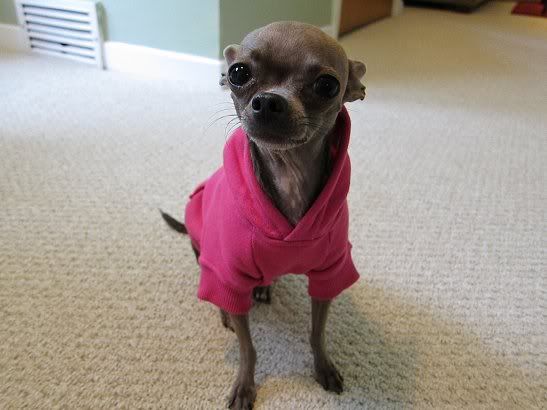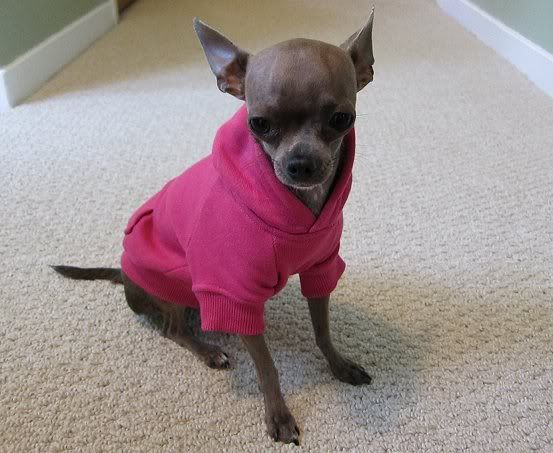 The XS fit is tighter and a little shorter on Pip as he's my little muscle man. hee hee. Note ears down in all of Pip's pics. Let's just say he was glad when the photo session was over. Aww.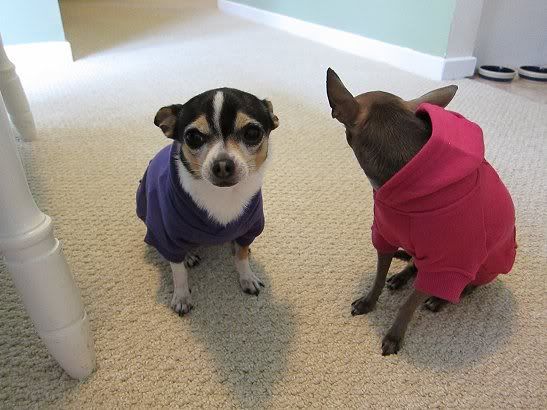 Pip looking sheepish, lol. I hatez dis mom, peas can we stops.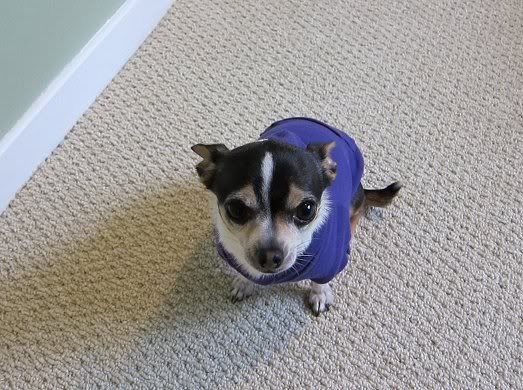 XX-Small snow baby hoodie on Roo: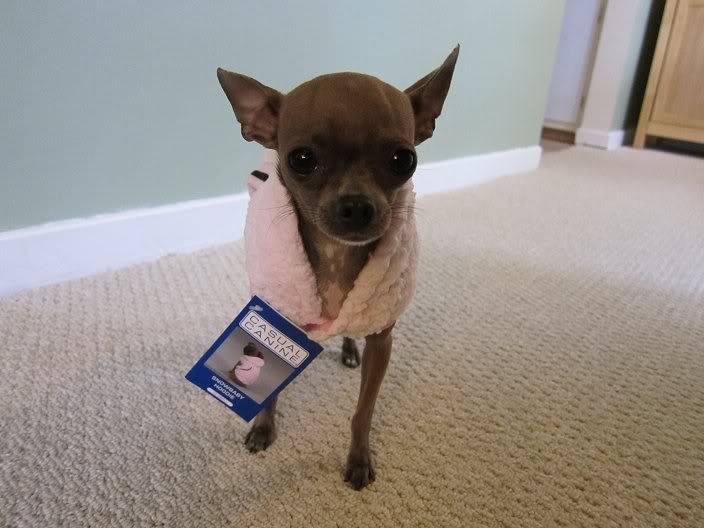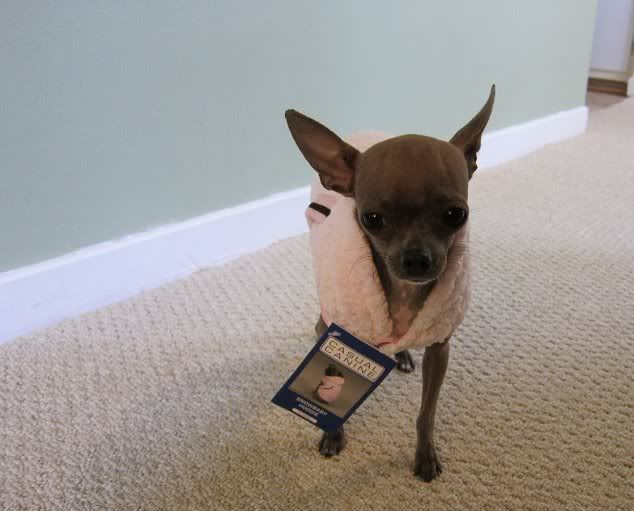 Iz weady for bedz now mom.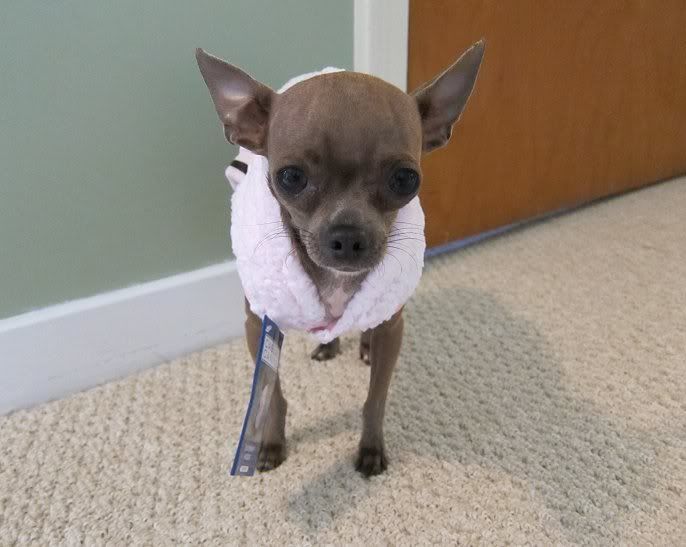 Here's a side view, I wasn't sure if it's too short?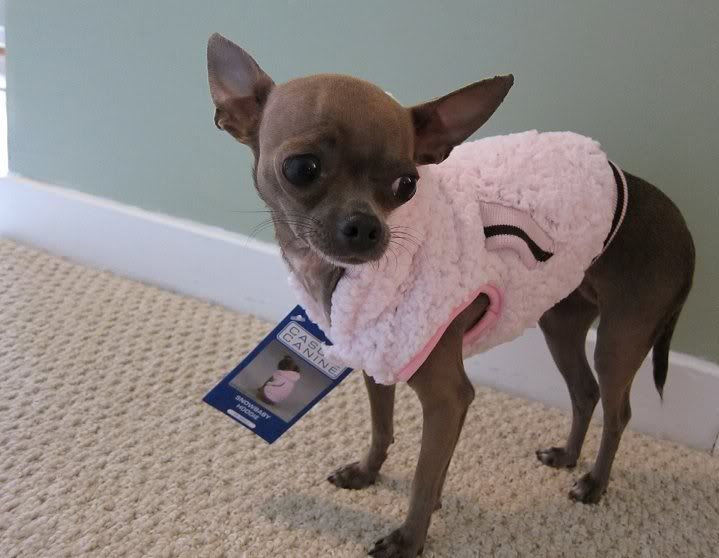 And lastly, the gray hoodie, size XS. These run bigger and longer. I also got this in pink. I think this will be great for Winter, it's quite heavy. Roo went to sleep in it after I got done with the pics. She was starting to fall asleep standing up. lol.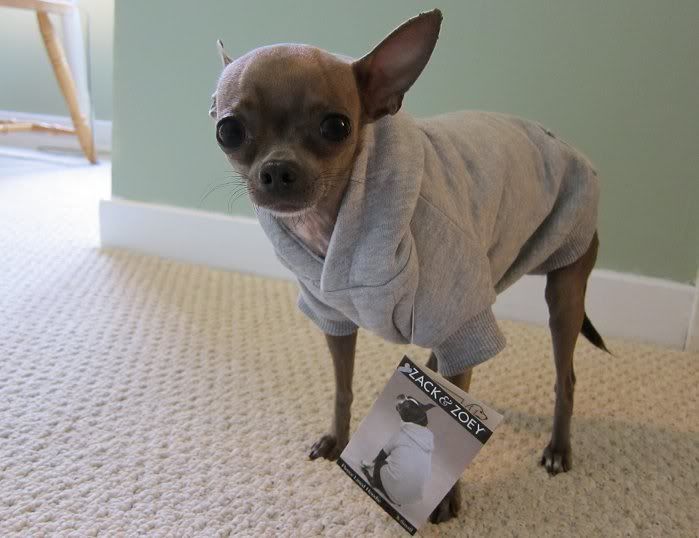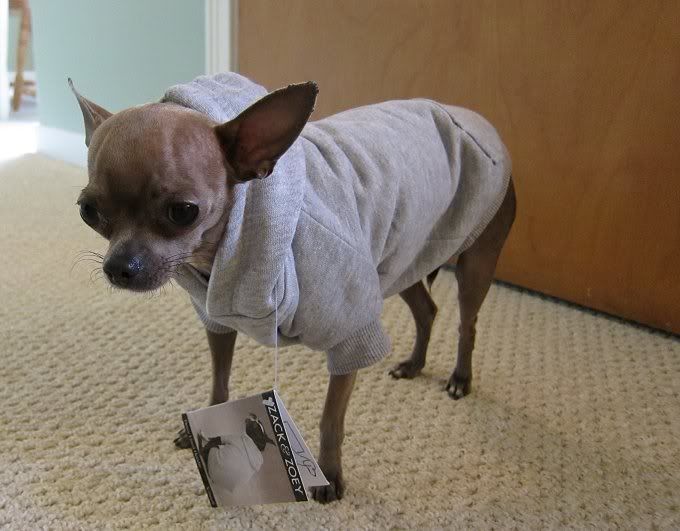 And that's it! I really love them and it's such a great bargain. Thanks again so much for posting about them, Kristi!