Discussion Starter
•
#1
•
Hard to get photos, she is always on the move unless sleeping. She is adjusting very well so far. When her batteries run down she whines a bit and I put her in playpen. She goes right to sleep. My human baby wasn't that easy! LOL
I was worried sick about her 1st shots but thank goodness all went well. She wants to chase Molly the cat (who isn't so fond of her yet) and Peanut, my 17 y/o mix (too old and senile to play =( We love her and what joy she brings us!
just finished playing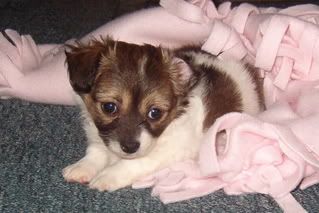 Homecoming harness vest, only 8" chest so she won't wear it long.